AS350/ H125 Maintenance Kits
At Szabo Aviation International, we are passionate about all things within the aviation industry. With over 20 years of experience in supporting aviation requirements, we are proud to offer our clients reliable and high-quality maintenance kits for use on AS350B2, AS350B3/H125, or AS355 helicopters.
We offer a standard maintenance kit or alternatively a tailored kit to user preference on request. Our cost-effective solutions allow our clients to find the right mix of items to suit their requirements and budget.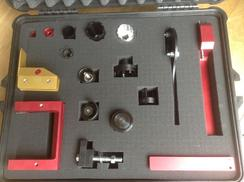 AS355 and AS350 Maintenance Kits
Our AS350 and AS355 maintenance kits are ideal for supporting your aircraft maintenance needs.
The standard AS350 maintenance kit includes:
Bell Series

H-350A93-3200-20
MGB Socket
H-350A93-3205-00
Wrench Lock MGB Shaft
H-350A93-3300-20
T/R Socket
H-350A93-3302-02
T/R Yoke Holding Fixture
H-350A93-3303-02
T/R Body Hub Puller
H-350A93-3305-20
Socket TRGB
H-350A93-3307-00
Seal Hold TGB Extractor
H-350A93-3312-03
T/R Flapping Bearing Tool
H-350A93-3316-20
T/R Spider Socket
H-350A93-3317-20
Seal Fitting Tool
H-350A93-3400-00
Driveshaft Thimble
H-350A93-3500-00
Bearing Extractor
H-350A93-3501-20
Driven Pulley Extractor
H-703-A94-1130-01
Tab Tool Set - Bender & amp; Gauge
H-350A94-5201
Dummy Plug
H-350A93-3301-00
T/R Accel Support
H-350A94-2700-00/06 AS350
Flight Control Rigging Kit w/7 deg template and flags
H-2706
Extra Rigging Pins for Dunlop Servos (2)
Digital Scale
Inclinometer - Angle Locator
Hyd/Accum Gauge (300 psi) & amp; Fitting
Dampener Spanner Wrench AS350
Bungee Cords (2)
Driveshaft Run-out Check Tool - magnetic base and dial indicator (.001 scale)
H-703A95-0508-00
Drain Tool AS350 MGB - Long
H-703A95-0505-00
Drain Tool AS350 TRGB
H-703A95-0520-01
Drain Tool AS350 Oil Tank/Hyd.
H-350A93-5400-00
Engine Support Mount
We also offer protective cases and the ability to tailor your AS355 and AS350 maintenance kit's contents to meet your specific needs.
If you're looking for superior quality tooling and equipment to support your aviation maintenance needs, feel free to give our team at Szabo Aviation International a call today.